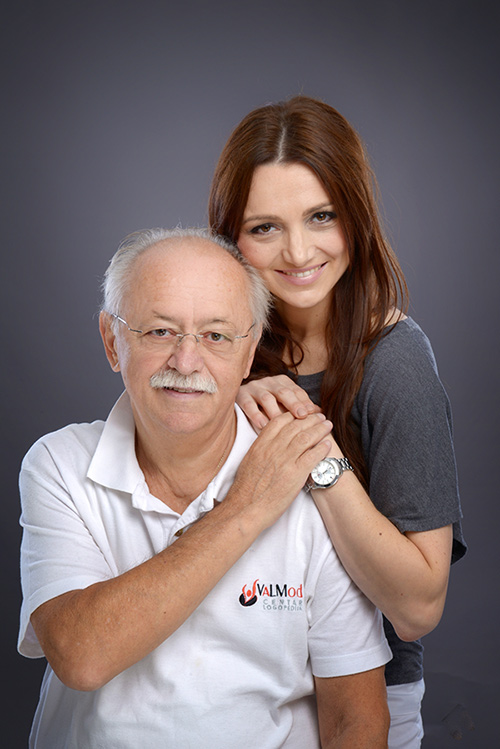 Once upon a time... This are the words of any bedtime story that parents tell their children when they go to bed to encourage sweet dreams. By the end of the 1970s (this sounds such a long time ago!), after graduating and holding a diploma in my hands, I started work as a Speech and Language Therapist at the then Varaždin Medical Centre's Department for Healthcare of Schoolchildren and Youth. Finding myself in what one would call 'the line of fire', I encountered children and adults who suffered from various difficulties: dyslalia, dyslexia, dysgraphia, stuttering and aphasia.
... I met children and adults who suffered from various difficulties...
... I applied all methods and techniques I had learned during my studies...
At the university we completed practical exercises at the SUVAG Polyclinic in Zagreb, so I could benefit from the SUVAG LINGUA I found at my new post performing sound and stuttering corrections. I came across several quite difficult cases of grade 5 to 8 primary school pupils who had serious problems, i.e. stuttering that I had not come across before. To help these children I occasionally contacted Prof Dr Ivo Škarić, who lent me his VIBIŠ device so that I could try and help those children. It was to no avail. So I continued my work in the conditions and using the equipment which was available to me. And then one day: what a shock! It was after therapy with a young man whose extremely severe stuttering was reduced during therapies but outside it, it was horrific. He felt so depressed after his stuttering reached its climax that morning at school during an oral examination that he stood up during therapy, threw his headphones, the microphone and the device off the table and shouted: 'Is there no one in this world who can help me, shall I be miserable for the rest of my life!'
This episode initiated defiance in me, forcing met o start with something that in Speech and Language Therapy could be called 'The Black Hole'. There had been a log of talk about stuttering, everyone was involved, everyone had a theory, but with no actual results. So I decided to start from the scratch. But before I continue, I cannot leave out people who, at certain points at the beginning and later on in my career, influenced my awareness and professional maturity not only about stuttering but also much wider issues. First and foremost my acknowledgements must go to Primarius Dr Vladimir Nöthig, a Neuropsychiatrist who encouraged me and enabled me to address the issues from neurological and neurophysiological points of view, Primarius Dr Pavao Brajša, a Psychiatrist and Psychotherapist with whom I cooperated for many years and with whom I learned about Psychiatry, Primarius Dr Miroslav Pospiš, a Neuro-paediatrician with whom I started voluntary work at the newly established 'Children's Neurology Surgery' and Stjepan Ozimec MSc, a Psychology Teacher who introduced me to the world of emotions and expanded my views in the sense that what we hold inside us is also essential and important to understand and resolve many issued a person is faced with.
'Sometimes external, sometimes internal, sometimes direct interpersonal and now intrapsychic'.
Later in my career, I was extremely grateful to Prof Behlul Brestovci PhD, who accepted my ideas and views on speech and language therapy and supported me.
I cannot forget the message that Primarius Pavao Brajša once told me about stuttering: 'sometimes external, sometimes internal, sometimes directly interpersonal and now intrapsychic'.
This motivated us to get together and create the first interpersonal dynamics quality assessment questionnaire for a family to which the stuttering person belongs. The questionnaire changed with time and today we're using it in our diagnostic procedure. There are other questionnaires that resulted after this first one, which we found necessary to get relevant data on problems why a person was referred to us.
After collecting all available data and information on all phenomena that people who stutter feel before and during communication, regardless of the natural systems/family, schooling or work, statistics of the received data shows that the dominating feelings are larynx muscle tension and diaphragm spasm, tachycardia and perspiration of palms accompanied by tremors.
When you have friends who are at the same time excellent experts in their respective fields, this open new areas of collaboration and can resolve certain dilemmas.
'Measuring muscle tension is not a problem at all...'
Back in 1985, when sipping my first morning coffee, I talked to my friend, godfather and a true Rock'n'Roll guy Zlatan Ribić, a doctor of sciences, master of electrical engineering and one of the leading acoustic experts in Europe. He listened to me carefully and then, smiling gently, said: 'measuring muscle tension is not a problem at all. I will design a small electromyographic (EMG) device with a special way of displaying the level of tension or relaxation of muscles'. When I thought how long I had struggled with the idea to measure muscle activity, only to get the answer in a few seconds, over a cup of coffee, I realised that the specific 'neurophysiologic vastness of human organism' cannot be approached without help of other experts.
A month later I found a miniature EMG device with several potentiometers, cables and electrodes on my desk. It was powered by a 9V battery and had a screen that could monitor muscle activity within the larynx. Everyone was delighted, primarily patients who accepted the device very well, as now they could finally see what was going on immediately before and during their speech.
Several months of experience and monitoring of our work with EMG gave us biofeedback and created new ideas and new suggestions that involved programmers...
Several months of experience and monitoring our work with EMG gave us biofeedback and created new ideas and suggestions that involved programmers... In medicine, the term EMG biofeedback was used quite a lot and many papers had been published in this field, but all the research and work used a traditional EMG device which registered certain parameters that were not interesting for us, because of their complex presentation and lack of adjustment to patients (wave form, amplitude or conductibility). We were looking for a solution with which our EMG device, supported by new software solutions, would show only a summary, i.e. an overall total, of tension/contractions of a certain muscle or a group of muscles. The relaxation-tension relationship had to be recognised by every patient in the simplest possible way so that such a patient could then learn how to control muscle dynamics by applying certain procedures immediately before, during and after speech or communication. Year after year new ideas were created and our EMG feedback changed and improved so that at present we are using the fifth generation of the device and the software for diagnostic purposes and in stuttering therapies.
It is well known that since the early beginnings our therapies, known under the name of VaLMod Programme ('Varaždinski Logopedski Model' - Varaždin Speech and Language Therapy Model), have been based entirely on our questionnaires and our attendees have tackled numerous challenges and risk situations, because we wanted to know if we had done everything necessary for a successful communication from emotional, neurological, social and communicational aspects.
...VaLMod - Varaždin Speech and Language Therapy Model...
One of such tests was communication in the street with unknown people passing by. Many times I would organise this with my wife Anica and our daughters Ingrid and Tatjana, who then attended secondary schools, and sometimes even my parents. They would find themselves at a certain location in the City, and I would sent attendees to contact them, ask certain questions and have a normal conversation with unknown people. What a joy it was, to be able, for the first time in their lives, to approach someone and without any problems and talk about everything. Oh, how many tears of joy were shed. This was so beautiful!
...And rewards, they were like a motor fuel...
Such a neurophysiological approach to stuttering, a therapy in real life situations (streets, shops or agencies) and, of course, application of other diagnostic and therapeutic parameters, were awarded numerous awards from renowned world experts (golden medals in Geneva, Nuremberg and Pittsburgh).
These awards were like a motor fuel for further research in the field of respiration, i.e. breathing when talking, in persons who stutter. The results and experience in the application of EMG Biofeedback Technique enabled us to start resolving the issue of breathing. We contacted a US company that produces breathing sensors, we bought the sensors, rolled up our sleeves and all worked together led by our Programmer Zoran Kadežabek.
In the end we can conclude that the VaLMod Programme Professional Team of Darko Novosel, PhD, as a Scientific Associate, Tatjana Novosel-Herceg, MSc, a Speech and Language Therapist, and Ingrid Novosel, MD, a Radiology Specialist, accompanied with other assistants, developed and implemented in practice the first EMG Biofeedback and shortly afterwards Respiration Feedback, which is today successfully applied at the VaLMod Centre in Varaždin which is headed up by Tatjana Novosel–Herceg, MSc. My illness forces me to slowly leave my speech and language therapy, but I will continue to, relaxed, with a glass of red wine in my hand while feeling proud and pleased, follow the progress and development of VaLMod® Programmes headed by Tatjana Novosel-Herceg, MSc, Speech and Language Therapist, Ingrid Novosel, MD, Radiology Specialist, Margareta Kaniški, MA, Speech Therapist and Renata Smrečki Martinez, MA, Speech and Language Therapist, together with all our other external assistants.
Dr.sc. Darko Novosel, prof.
znanstveni suradnik